Technology is the use of science in industry, engineering, etc., to invent useful things or to solve problems.*
In our case of pet lost prevention, technology helps us solve the problem of finding our pet easier and faster than ever before.
1 in 3 pets will be lost in their lifetime, which means that having five animals of my own, I'm going to  end up losing at lest one of them (which I already have, but I will tell you more on that story later).
In honor of Lost Pet Prevention Month, I have put together a little info on the top 3 different technologies that are a MUST for pet recovery and prevention.
Basically it breaks down to these 3 technologies:
Wearable Technology
Internal Technology
Online Technology
Wearable Technology
GPS Collar or External Dog Tags
I suggest BOTH.
WHY GPS Collars? i.e. the Whistle 
Receive an alert when your pet exists the set up "Home Zone"
Live GPS tracking and location alerts
WHY External Dog Tags?  i.e. Pet Hub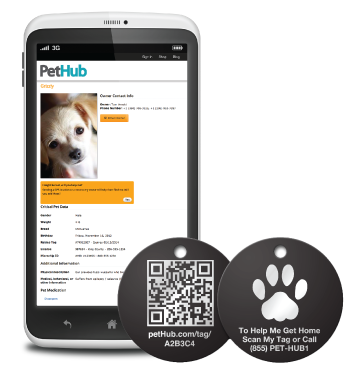 Allows you to have multiple ways to be reached
Ability for anyone who finds your pet to contact you 24/7
Internal Technology
Microchips! If you have adopted your pet or your pet has been spayed or neutered, chances are your pup already has a microchip.  If not, contact your vet asap to get your pup microchipped!
When a pet is found and brought to a shelter or rescued it is scanned for a microchip.  No microchip no collar=no way to identify your the owner or to notify you.  If they are microchipped and your information is not up-to-date —how do you expect them to call you?
Therefore: Microchips are a must!  And a MUST to have updated information on the microchip platform.
There are two main names I want YOU to know when discussing Microchips:
You may already be aware of HomeAgain – a highly-used microchip registration platform. Even if your microchip is not made by HomeAgain you can still register with them for an annual fee around $20 which comes with lots of pros like:
Ability to speak with an emergency vet or pet poison control 24/7 with out paying the $60 dollar fee
Lost Pet Alerts – when you log in to Homeagain and tell them your pet is lost, they will automatically send out Lost Posters to local veterinarians, shelters, and rescues.
Chances are you haven't heard much about Save This Life, a new product produced by Henry Schein.  This is also a microchip platform, but if your pet already has a microchip you can still register through Save This Life for just a one-time fee of $25 dollars.
Why choose Save This Life?
The ability for anyone with your pets microchip number to GOOGLE that number and contact you via email or text.
YES I did say they can GOOGLE your pets microchip number!!!  
Now…that is pretty awesome technology there!
I suggest registering through both platforms as they both offer something great.
Online Technology
We all know what this means: using online social networks to help find lost pets!  This is where my story comes in to play.
If you follow the OK Dogs on instagram you may have seen the orange cat named Syra pop up in multiple photos.  Syra is our youngest cat. She and her brother Whitacre love to hang outside together.  One day a few summers ago, Syra went missing.  We were distraught.  Luckily I knew of our community Lost & Found Facebook Page. We posted her information..
And waited.
Four weeks later we receive multiple facebook messages that lead us to believe our cat had been found.  A woman had found and posted a similar looking orange cat.  Turns out it was SYRA.  She was only 5 blocks away.  Although we had put up lost posters and contacted the local shelters, it was the technology of the online social group Lost & Found Pets of Lexington, Kentucky that helped us find and bring our Syra home.
My cats may not always wear collars and don't have their own GPS, but do have microchips.  However, our dogs, who travel everywhere with us, have everything:
the Whistle GPS
a PetHub tag: with all our info – emails and friends numbers
a general tag with their name and a phone number
a microchip that has been registered through both Homeagain and Save This Life
We also carry
 Pictures of them (I mean who doesn't have photos of their pets on their phone)
Vet Records to prove ownership (love having their records at my finger tips thanks to the mobile app VitusVet.)
No pet parent wants to go through the stress of losing a pet, be prepared with technology.
Find out even more ways to be prepared and to help in times of need through PetHub's Lost Pet Prevention Site

If you have questions about any of the technologies we use and how they work please feel free to message us through our facebook page.